Wind power and wind turbines.
Parallel to the photovoltaic sector, the wind sector has received an extraordinary boost in recent years, especially in Europe, the US and China. The projections for the future were, at the end of 2019, enormously optimistic.

In its report 'The Socioeconomic Impact of Wind Energy in the Context of the Energy Transition', KMPG suggested that, in Spain and worldwide, wind could cover 34% of energy demand. These figures, in the context of the current COVID-19 crisis, may be affected, although nobody knows precisely to what extent.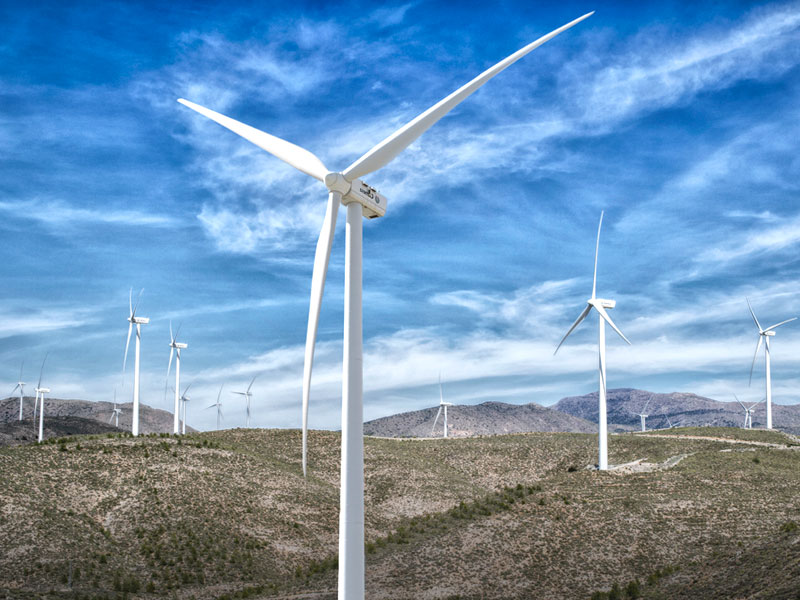 Here at the GMS Internacional Group we are prepared to face the growth of the wind sector.
With our specialized teams of geophysical and geotechnical exploration, as well as our extensive network of collaborators around the world, we are capable of undertaking any type of project regardless of its size or complexity.
Our experts bring all of their experience, quality of service and enormous professionalism to the table, and this translates into trust on the part of our clients and collaborators.
We work together with
developers and builders of wind farms
around the world providing geotechnical, geophysical, hydrological, environmental, or civil engineering consulting services as appropriate.
Our work allows our clients to make decisions based on a comprehensive knowledge of soil risk and therefore reduce uncertainty and minimize their operating costs.
GMS Internacional provides an extensive range of comprehensive services for the wind sector, some of which are detailed as follows:
Rotary sounding for geotechnical surveys in wind turbines.
Fast, light, and economical dynamic penetration tests.
Trial-pits and brief soil description.
Geophysical surveys for wind turbines, including:
— GPR (georadar) to identify buried structures and services
— measurement of surface seismic waves (MASW, ReMi)
— down-hole and cross-hole tests
— measurement of electrical resistivity at depth for dimensioning the grounding system,
— measurement of thermal resistivity for cable sizing.
Installation of piezometers to monitor and measure the water table.
Pumping tests.
Calculation of bearing capacities and settlements.
Calculation of slope stability.
Calculation of retaining walls.
Analysis of materials for fills, bases, and sub-bases.
Measurements to determine the corrosivity of concrete and steel.
Our studies provide the necessary information for the optimisation of foundations and other structures associated with photovoltaic work.

Topographical surveys.
Photogrammetry.
Boundaries, measurements.
On-site stake-out.
Environmental impact assessments.
Environmental assessments.
Environmental Due Diligence.
Contaminated soil assessments.
Do you need a quotation?
Contact us and we will design a project which is tailor made to your needs.